If you have been on a tour with us click HERE to send us your comments, we would love to hear from you!
You can also read and post reviews about us on Tripadvisor by clicking HERE.
Following are some comments/testimonials from past guests.

Highlight of our trip
We were a group of 14 leaving from the port in St Maarten on a 3 hour tour to the French city of Marigot. There were merchant blockades that day and the ship's tours were canceled, but Diederick knew how to avoid the problem and took us on a beautiful and informative tour of the island. We most highly recommend his company.
ps We got off to a rocky start by being on ship's time rather than local time, but Diederick was kind enough to wait for us. We can't thank him enough.
We surely will return to him on our next cruise.
We had a group of 16 on a tour with Diederick SXM. It was one of the best group tours we have ever been on. He was very knowledgeable on the history of the island. Also directing us to the best places for food and shopping.
This was a great tour.
Diederick was so informative and entertaining. The time flew so quickly. I would recommend taking this tour. I would love to see the countryside again.
Paul at Diederick tours was fantastic
We joined Paul on the tour with friends Colin and Jenny on the 22nd February 2016. Paul was friendly, fun and very imformative throughout the tour. He took us over the whole island, stopping at every photo opportunity. It came over that Paul is bot only very proud of the island but also the tour company. We have friends visiting the island shortly, and I have already given them your card to arrange a tour. Thank you for making our day so enjoyable.
Mr. Diederick was the best!
Mr. Diederick was the best. I have told all my friends about him, so when they come I told them to ask for him.
Diederick SXM Tours is AWESOME!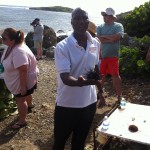 I took a tour with Diederick SXM Tours on 11/17/15 with Paul, who is an awesome tour guide, and had a great time in St. Maarten. The tour is well worth the price and I highly recommend this tour company. Paul took us to some great scenic and historic sites, as well as two beautiful beaches. There were all kinds of beverages at our disposal, including beer and Rum Punch, to quench our thirst during our awesome tour.
Excellent tour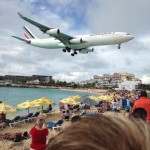 We toured with you last December and had a great time. We loved all the stops and information given to us during the tour. Would definitely come back again.
We thoroughly enjoyed our tour!
We thoroughly enjoyed our tour of the island on July 1st with Paul. He took us to all the beautiful sites and even took us to a great pace for lunch.  We will recommend him and your tour company to all our friends who visit your beautiful island.
Garry Hancock
The best tour we had ever been on
Good Morning. We had the pleasure of taking a tour with your company on Saturday May 30th. Paul was our driver and he did an awesome job making us feel comfortable and showing us all of the sights of St. Maarten. My dad is a history teacher so every time we go on a trip I enjoy hearing about the history of different countries. I run a business up here in Colorado with between 70 and 80 employees and would feel priveledged to have an employee with the passion and dedication that Paul has. Our family is really quiet and really keep to ourselves but Paul got us involved and it was just an amazing time. But what made it the best tour we had ever been on was my wife left her cell phone on the van and didn't realize it until about a half hour after we were dropped off by the ship and a gentlemen at the gate was able to get a hold of somebody to have Paul drive back to bring us the phone. When he brought it back he wasn't upset at all and gave Chandra a big hug and told her that everything was okay.
Last night we were looking to see about an a trip back to St. Maarten next year and we would have never done that if it wasn't for your company and Paul.
Thank you very much.
Curt Parker
Accomodating and informative
My husband and I had the pleasure of going on an island tour on 4/28/15 with Paul as our guide. He was very informative, pleasant, and accomodating. When I realized Orient Beach was clothing optional I felt sick and prayed the night before for God to get me out of it. Paul ended up giving us our choice of beaches. I was so relieved. He let us plan the amount of time we wanted to spend at each spot. We thoroughly enjoyed the day. Thanks Paul.
Best of the Best Tours
We had the pleasure of booking a City to City Tour in St. Martin. Diederick met us right on time and walked us to the van and our driver/tour guide Anthony. If you have reservations about booking, put the reservations to rest! This was hands down BEST TOUR EVER! Anthony was so informative about the Island and its history. All the while making us feel comfortable and safe. There was a cooler filled with just about anything you could want including sodas, beer and rum punch. Anthony showed all the high points around the Island stopped for shopping, answered questions, we had an all around great time! Thank you Diederick Tours we will be using and recommending you to friends and family! Please tell Anthony Thank You again for the awesome tour!
Thank you for a lovely private tour of the island with PAUL.  He was very accommodating and patient with our group. Two of our travelers were "slow" and he waited for them and gave them enough time to do what they needed and we were able to see what we wanted and stay at the beach for the length of time we chose!  We will definitely recommend to any persons we know going to St Marteen. Thank you for keeping your word in meeting us there and for the rate you gave us!
We had a great tour with our driver Paul on 8/16. He was so friendly and really showed us the island. I highly recommend this company and we look forward to our next visit! Thanks!
We had an excellent tour around the island with Mr. Diederick he is courteous, professional, knowledgeable, on time and provided a great tour. We were a group of 8 and enjoyed the tour very much. If we go back to St. Maarten will tour with Mr. Diederick again. We highly recommend this tour you will not regret it. Mr. Diederick my husband and I thank you for a wonderful tour.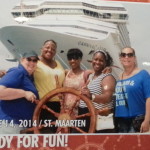 First and foremost I would like to thank everyone who has made our vacation should a wonderful & a memorable one. Diederick, I would have to say that St. Maarten is a wonderful and beautiful island, and you my dear sir have out done yourself on providing our group a magnificent tour of your beautiful island. You have gone above & beyond our tour. Providing much history of the island. To everyone & anyone who is looking for a tour guide please see Diederick sxmtours. Outstanding tour guide.
Elaine
New York
I was there with 2 of my friends and we joined another couple and had the greatest day with Diederick. We even met his charming wife. He took us all around the island, took us to the beach for approx 2 hours, had home made rum punch for us and beer and water. He is very easy going and very social. It was the Best tour I have ever had! I will go back to St. Maarten again and have him show us the sights again. He is the best!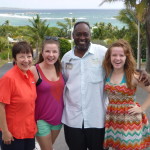 Super tour! Diederick is exactly what we had hoped for based on the reviews and write-ups. My family and I had a wonderful day touring the island, beaches, etc. He is the real deal as far as local knowledge and history of the island. We certainly felt like we were saying goodbye to a close friend at the end of the day. Diederick, thanks again! The Graham Family, Panama City, Florida
Diedrick was the best tour guide I had a great time and can't wait to see him again. He took us places that were so interesting and his personality couldn't have been any better!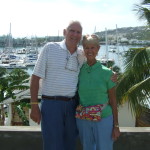 Diederick did a fantastic job in taking us around the island. He provided insights that you would probably never get on any other tour. We highly recommend using him.
My family was very fortunate to encounter Diederick as we came into Phillipsburg off of the water taxi.  We were looking to take a tour of St. Maarten and Diederick took us under his wing and gave us an excellent ride with many historical details thrown in regarding places we passed on the tour.  I highly recommend Diederick for any transportation needs you may have on St. Maarten based on his engaging personality and mostly because he is a man of integrity!  Thank you Diederick!  See you again in February 2014!
I had the pleasure of touring this beautiful island with Diederick as our guide. He was very informative and answered any and all questions. We had a absolutely wonderful time and this was all due to Diederick. I would never tour this island with anyone else. I highly recommend him.
Thank you Diederick  for a WONDERFUL tour of St. Maarten from the Young family. We will definitely recommend you to future Disney Cruisers.
We had the BEST day with you, traveling all over your beautiful island! Thank you for your kindness, knowledge and humor. We shall always choose Taxi #2, and hope everyone else does too.
We toured with you last month. The kids loved the stops to see the iguanas and sea life. The adults appreciated your knowledge of the island and sharing so much with us. Thanks for a GREAT DAY!
It was a wonderful day with you...greets from Germany.
Brent Lytle - Shawna Mackin and I really enjoyed our day with Diederick. He was really GREAT. He took us on our own personal tour. He shared his knowledge of the Island like we were family. Showed us his friends place were they raise iguana's. We really appreciated our time with him. I really suggest to anybody going to St. Maarten to get in touch with Diederick. His service was EXCELLENT!!
Thank you Diederick for the GREAT tour around the island!!! We will definitely be back to see you soon!
Hi Dederick, thanks for the GREAT tour around St Maarten.
Thanks for the Island Tour!  It was very PLEASANT and ENJOYABLE!  God bless!
We will return to this Island because of your Tour.
If you have been on a tour with us click HERE to send us your comments, we would love to hear from you!
Be sure to like us on facebook!